"This is quite ignorant @BELIFTLAB!!!!"
At the Inkigayo stage on 23 Jan, Jake (ENHYPEN) scribbled a necklace having Allah's title on it in Arabic. Performing this to Muslims is ignorant and disrespectful.
"We require an apology." "
Trending tags are a mess today.
Exactly what are your thoughts?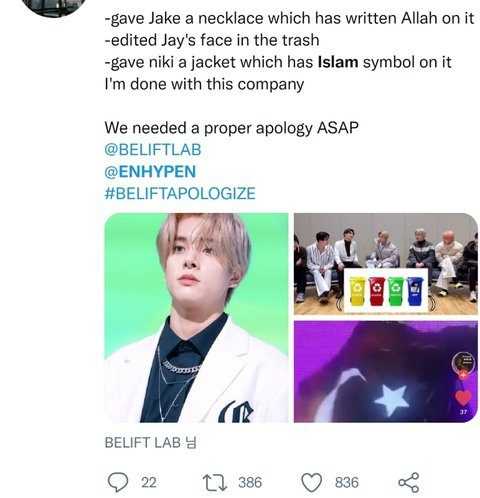 1. It appears extremely unplanned. It is not like in the performance they ripped the Quran apart.
2. It's amusing to look at comments below. Though the idol isn't to blame, this's clearly the stylist's fault. I believe they've the proper to feel really delicate regarding this particular matter. It isn't correct to call somebody sensitive to a certain culture.
3. Wow… They ought to at least have respect for the culture of other nations, more than.
4. I'm a Buddhist, and whenever I see individuals sporting Buddha bracelets, I think about nothing at all. Their overreaction is sound.
5. What's so insulting concerning this? He is not bashing them for putting on the necklace, it is merely a religious necklace, is he? Nowadays, individuals see crosses as state symbols.
6. It is the stylist that is to blame. The stylist previously got RM into difficulties and brought about a debate.
7. They clearly wish an apology, however when you look at both translation as well as the authentic comments, it is obvious they would like to educate their members. Why do you wish to inform members about faith?