Duplicate streaming: When fans stream the same song repeatedly for an hour, they won't count how many listens. Instead, they will count how many users and song.
TOP 15 Melon male idol groups' songs by listeners
What does it mean to have a large number of listeners?
It doesn't matter how many times they stream or repeat a song, it will still count as one account and one listen (this does not allow for mass streaming).

1. BTS, Spring Day 7,500,000
2. BTS, Boy With Love 6,100,000.
3. iKON, Love Scenario 5,700,000
4. BTS, DNA 5,600,000.
5. Missing You 5,400,000
6. Winner, REALLY REALLY 5400,000
7. BTS, IDOL 5200,000
8. Wanna One, Energetic 5,000,000
9. Bigbang, Bang Bang Bang 5,100,000
10. Bigbang, Lies 5,100,000.
11. BTS, Dynamite 5,000,000
12. BTS, Fake Love 5,000,000
13. BTS, Blood, Sweat & Tears 5,000,000
14. B2ST, Rainy Days 5,000,000
15. Haru Haru, Bigbang 4,800,000.
Look at the number of singers.
TOP1: BTS
TOP2: Bigbang
TOP3: BTOB, Winner, Wanna One, iKON, B2ST
1. Lies???? Hul
2. These are the songs I actually know.
3. Wow Lies and Haru Haru
4. A lot of 2017 songs are available here
5. Love Scenario is still my favorite song.
6. Dynamite is the only song to be released after 2020… It's amazing how high it rose already
7. Did anyone know that Boy With Luv was a huge hit on Melon?
> It nearly killed Melon
> It was legendary. It was the first and only time we were able to access Melon.
8. Wow Bangtan has many mega hits…
9. Amazing Rainy Day…
10. There isn't a song that I don't know. Everybody is amazing
Notice: The NCT DREAM Hot Sauce is the one that follows Don't Call me.
Based on Melon users, the main songs of boy groups released in 2021 were based upon these lyrics.
Days: X axis
Listeners
Below is the zoomed-in version of the graph at the top.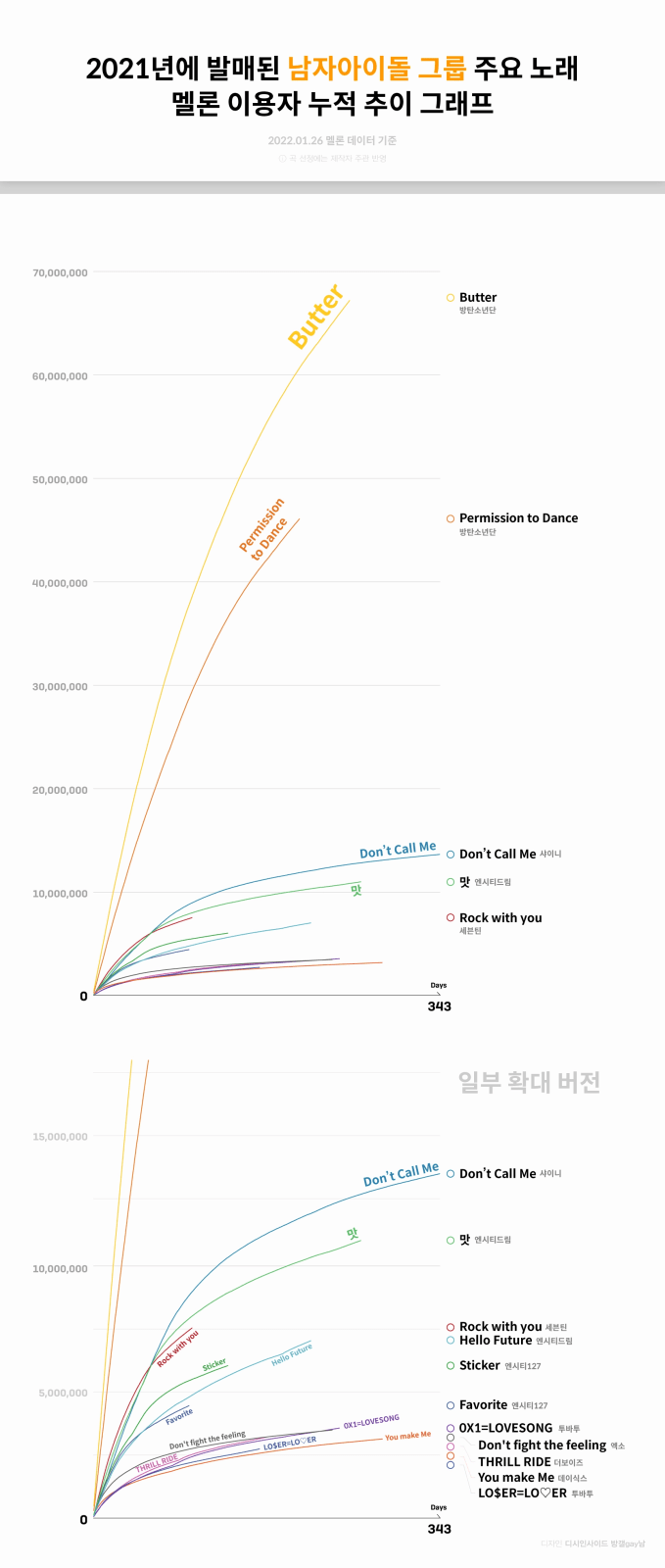 1. Jjang Boyz I love you
2. Bangtan reached the heavens
3. Hul Day6 can be found there
4. Shinee is expected to be daebak
5. Wow Bangtan is seriously at the celestial level. King-tan
6. Our TXT is slowly, but surely, increasing
7. Wow, there are 2 songs in TXT
8. Wow, even You Make Me is there. It makes me feel emotional
9. NCT DREAM and Bangtan are the best.
10. Hot Sauce was legendary