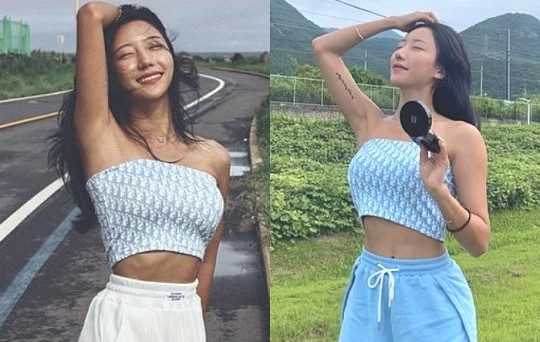 1. Even in case she used a fake, it is not like she attempted to fool everyone with it. I understand buying a thing in case you think it is pretty but that is altogether distinct from attempting to fool the audience of yours and promoting it as anything different. I do not believe people are comprehending the crux of the problem.
2. To everyone hating on her for using fakes, do you most use Apple charging cables?? 😂😂 This scandal is such a pathetic instance of Koreans thinking "it's alright in case I get it done however, not anyone else" ㅋㅋㅋㅋㅋㅋ
3. At this rate, we are likely to be introducing a nationwide survey on individuals that wear fakes ㅋㅋㅋㅋ
4. I believe it is astonishing that these individuals are able to use fakes and still look as they are wearing authentics..
5. To the comments saying they do not get exactly why it is such a huge deal in case someone wears fakes or otherwise, do you actually not comprehend exactly why it is a huge deal? It is a huge deal since they wore it on television when fakes are illegal and also have issues with copyright. How can you not find that as an issue? Indeed, the witch hunting is an issue but saying you do not see the problem with donning fakes is simply proving you do not possess a human brain in the head of yours, tsk.
1. At this stage, Dior needs to release the leading as an official product
2. And what is this particular now… why are folks so preoccupied with purchasing luxury brands. Life 's not just about what is displayed on the outside..
3. Ahn Yewon used-to do team buys on Instagram plus one would have been a crewneck together with the Chanel logo on it. I purchased one through her.. ㅠㅠ but will not in the future
– She did group buys?
– Yes, she would once create posts saying DM me in case you wish to purchase what I am wearing in this photo. I knew her through the buys way before she proceeded Single 's Inferno!
– That seems a lot like illegal tax evasion
4. Celebrities positive love fakes ㅋㅋ why don't you merely save up and purchase the authentic or even wait around to be sponsored…
5. Where is all of the hate for Ahn Yewon now? Precisely why is just Freezia getting hated to death? ㅋㅋ
6. Replica 's Inferno ㅋㅋㅋㅋ
7. Let's say you simply do not understand what these brands are… I remember nearly purchasing a fake Burberry scarf since I simply thought the style was nice. It should not function as the fault of the individuals who get them though the individuals who produce and promote them
8. This's a worldwide embarrassment…
9. Fakes are a huge problem ㅋㅋ whether that is Freezia or maybe Ahn Yewon… certain, one side might be much more tricky than the other, though both sides continue to be deserving of criticism
10. I believe it is funny that individuals are attempting to justify one side rather than the other person. They each wore fakes, be good about the judgment of yours.