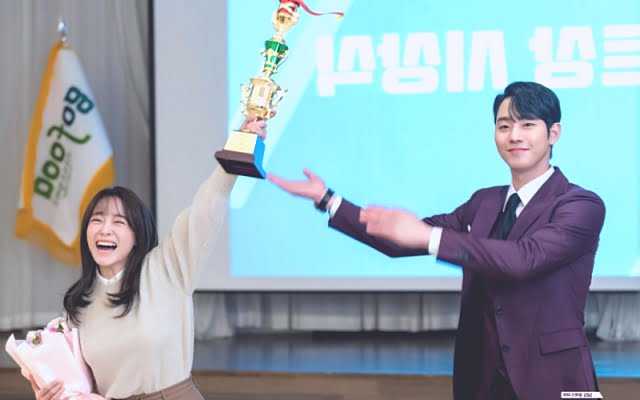 1. 12 episodes are way too little
2. I am genuinely confused by those who do not like Kim Sejung's acting. She's adorable and gorgeous and her over-the extreme acting doesn't bother me in the least. It was her who was the main character in this drama at the beginning. I think that many actors are beginning to form a synergy and are doing great overall. Stop judging an actress that is performing great.
3. Such a fun drama. Kim Sejung, Ahn Hyo Seob~ jjang acting! I would love to witness Ahn Hyo Seob live someday.
4. "Business Proposal" is one of the most effective. I'd love to have 20 episodes.
5. I was so giddy laughing at the moment of the female character and her friend who was drunk. Fun!
6. I love the drama because there aren't any frustrations with hold ups.
7. Wow! I didn't know I would fall in love with Ahn Hyo Seob this much. Other characters aside from Ahn Hyo Seob and his wife are fantastic as well. It's a great drama to watch due to the various other enjoyable aspects that contribute to the tension.
8. The casting of this show was flawless.
9. I enjoy watching this show for Youngseo. Sunghoon and his wife.
10. For all those who say Kim Sejung isn't she gorgeous Have you even seen yourself in the mirror?
11. I haven't seen it yet Is it really that good?
-I began watching it later and I ended up binge watching the first five episodes in 5 episodes in a row.
-I put it aside for later to devour and bought it this week, and it's a lot of entertaining.
-I've been watching dramas for more than 10 years currently and it's very good.
-There are some offensive moments that you must overcome, but overall it's very enjoyable. Every single character in the show, including the main characters is hilarious. I was a bit disappointed that the male lead's acting abilities were weak at first, but I've come to accept his character and have found his acting skills to be flawless now. This is a fantastic drama. I would highly recommend it.
12. It's a story for children that has a predictable end, however the actors are just perfectly suited to the characters, it's almost as if they've taken a bite out of the manhwa. The characters in the lead help me remember my first romance in my younger years.
13. It's an obvious plot, however it's a lot of fun to watch.
14. Ahn Hyo Seob is awe-inspiring.
15. The casting for this show is crazy, they're the real-life version of the webtoon character!