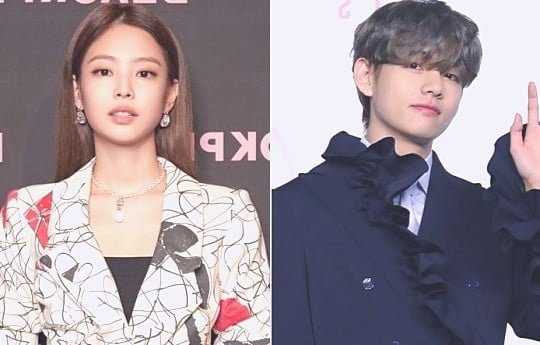 1. It's a kingdom of animals.
2. Jennie has been dating them all since Big Bang to EXO to BTS
3. If this is real then what else is there to say except to say congratulations? What's the problem?
4. Jennie will soon be Jennie the Song Hye Gyo for the entertainment industry.
5. Didn't G-Dragon and her girlfriend be dating just a few months ago? Private lives of celebs are in a state of chaos.
6. Nobody's talking about V but they're hating on Jennie and saying she's messy. She's beautiful and young. This is the best time to begin dating. Why should she be a solitary person?
7. Dating shouldn't be considered a crime
8. Jennie is quite free-spirited. A lot like Song Hye Gyo.
9. Two scandals with dating.. Sure, what's the matter. A third? Following another relationship? This could damage Jennie's image.
10. Are there really any negatives for two gorgeous people in their twenties in a relationship? Are famous people banned from dating for the rest of their lives? That's a shame.
1. If the images were photo-shopped and the person sharing the photos be notified… I would like to see people not edit images in this manner…
2. Daily Fashion News uploaded this first and then they claimed they had photoshopped it onto their fact-check report.
3. The first media outlet to release the story the story was Daily Fashion News and they removed it a few minutes later, saying that it was photo-shopped… Don't get distracted by these dating rumors, when the source has admitted that it was photoshopped and f*ck
4. What's the matter with this… V is engaged in their comeback, and Jennie's hair is different currently. V's photo is from IN the soop. I'm not sure of the source for Jennie's however, this photo is probably a Photoshopped version. If they're in a relationship, I am completely supportive of their relationship and believe that they look beautiful together.
5. Why bother using these photoshops for reasons that aren't
6. Doesn't Jennie's hair turn orange at the moment?
7. It's photoshopped. Jennie's hair doesn't have this color at the moment and the scene comes from J Hope and V in the back of a car In the Soop.
8. This image is a photo taken by J Hope riding next to V It's a photoshop.
1. So Jennie changed her relationship from Kai before GD and is now rumored to be dating in with the name V… I'm in awe, seriously. People kept saying that the photos were photoshopped , and then sharing the original photos, so I thought "oh, I guess the rumors aren't true", however, YG was out and said "We have nothing to say" and I was shocked… So I think that the rumors are real.
-If the rumors were authentic, YG would've just denied it , like it was with Jisoo! YG always claims "we have nothing to say" even if the rumors are real! !
-Jennie is a foreigner, so she's definitely American fashion with her dating. I love it and she is dating with her age, which is awesome to me.
2. One life is all you have and I'd like to live my life like Jennie's
3. They look great together. They're the most beautiful couple I've ever seen. I'd like them to admit it and start dating publicly
4. I'd like to support them. I love V and Jennie. V and Jennie so I think they'd look great together and both have the same low tone voice. an upcoming collab would be amazing you know!
5. If they're in a relationship Please share some updates on their Lovestagrams. They seem so beautiful when they are together…
6. Wow Wow, Kim Jennie… Just her name alone evokes the vibes of a goddess now. How is she able to pick out her top models to be with.. World top dating world class, they're such a great couple. I'm jealous of her too. I would love to have a life similar to hers someday. to see them happy and happy together. They appear so beautiful together.
7. Wow! I'm wondering what the lyrics of GD's are going to sound similar to in the future… I'm very interested in the lyrics.
8. I want to be happy for GD
9. Kai, GD, V… I want to live life as Jennie once
10. I honestly couldn't have imagined this.
11. Get married, find a bride to marry and have a happy Yuyu
12. Really, V and Jennie are the most beautiful I've ever observed… I've been waiting for this couple for some time kk V is one year younger and is therefore her oppa. He's taller too. they'd both be more open and share a lot of photos on Instagram and yuyu. They're two world-class stars, in the end…
13. It's difficult to figure out what their relationship might be from this, but for certain V and Jennie
14. Whatever the reason… the truth is that her ex-husband is GD BFF can be the V… Wow is that daebak…
15. Wow If this is indeed true Jennie has been in the best groups isn't she? Kkkkkk from EXO One from Big Bang One of BTS… Jennie is one of the Korean version of "Thank You Next," which is awesome.