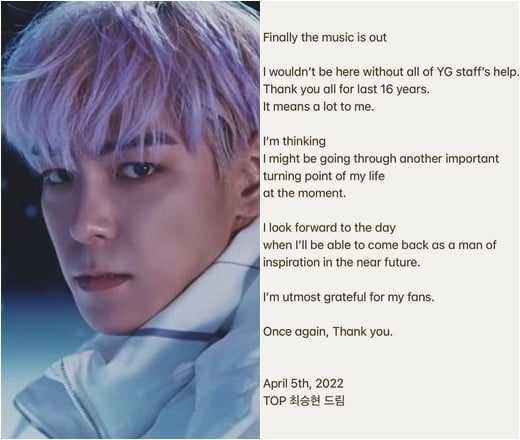 1. Oh sure!
2. Aren't your plans to say goodbye to your Korean supporters too? Why should you say it on English…
– Right? This is so disrespectful, what an insinuation of character to the end
-Should the Big Bang members had any sort of thought about this kind of behavior in the first place I'm not sure they'd have been able to avoid the mess they've gotten into with regards to speeding, drugs pr*stitution, abandoning pets, and so on.
-They have thrown off their Korean fans to their international international fans will protect regardless of the crimes they commit
-Maybe it's because he thought Koreans would be able to comprehend most part of the language in English in the first place?
-You're making an argument about the English? I'm sure that the majority of the Instagram followers are from abroad. Anyone in high school is expected to understand the message he's putting out, right?
-Although it's not a problem to translate the fact is that he has more Korean fans in the US and it would have been more effective for him to write an acknowledgement message in Hangeul in addition.
3. We bid you farewell.
4. It could be the album that is final.
5. Damn , I was sure that this would happen.
6. Wow.
7. Perhaps he'll enter the business alongside Daesung as well as Seungri.
8. I will not be sending off an infraction.
9. What's the point of a goodbye message by an ex-con?
10. We bid you farewell, criminal.
11. I loved his acting style so much but. particularly his voice and the manner in which his eyes were positioned. I'm hoping he can take on the stress and will return in the near future.