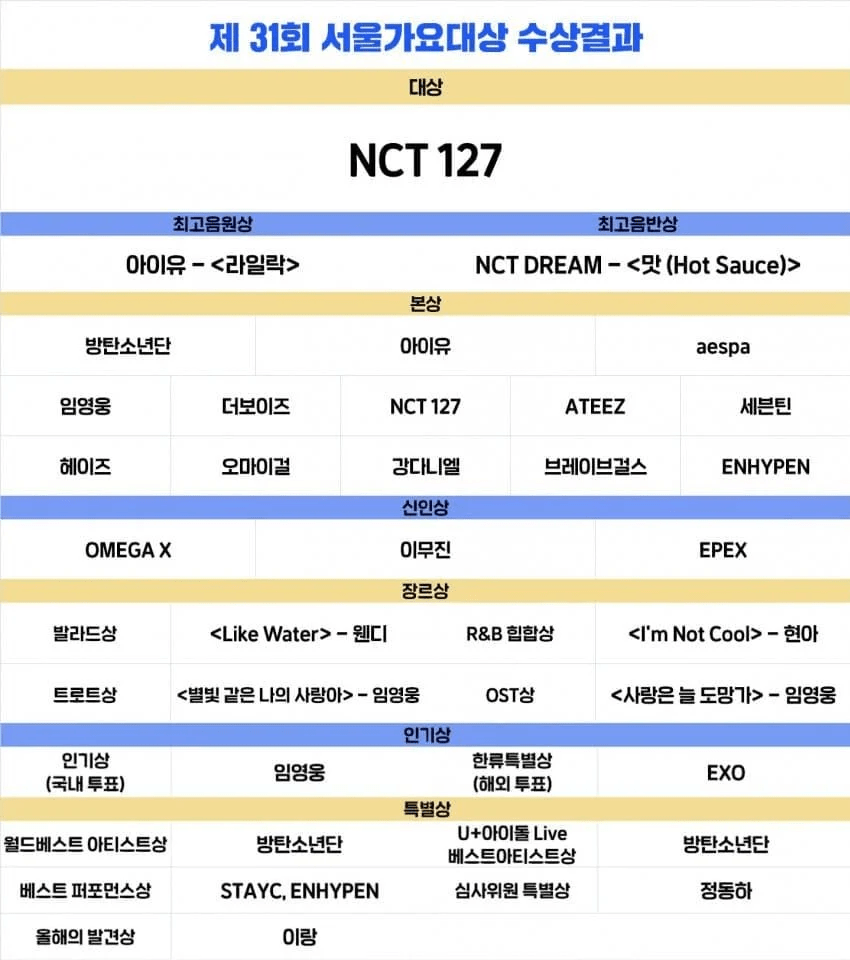 Daesang (Grand Prize): NCT 127
Greatest Album Award: NCT DREAM
Greatest Song Award: IU
World Greatest Artist Award: BTS
Bonsang (Main Award): ENHYPEN, Heize, Brave Girls, Oh My Girl, Kang Daniel, aespa, ATEEZ, NCT 127, THE BOYZ, Lim Young Woong, SEVENTEEN, BTS, IU
Greatest Performance Award: STAYC, ENHYPEN
OST Award: Lim Young Woong
Trot Award: Lim Young Woong
Ballad Award: Red Velvet's Wendy
R&B/Hip Hop Award: HyunA
Discovery of the Year: Lang Lee
Popularity Award (Korea): Lim Young Woong
K-Wave Award (outside of Korea): EXO
U+ Idol Live Best Artist Award: BTS
Special Jury Award: Jung Dong Ha
Rookie of the Year: Lee Mujin, OMEGA X , EPEX
1. I am a lover of Dream though I did not actually wish them to earn Greatest Album, f*ck. Let them have a Bongsang instead
2. The winners for any Bongsangs are ridiculous
3. I have never ever paid attention to Hot Sauce, not actually once
4. The Bongsangs are absurd ㅋㅋㅋㅋ F*ck, in case they are gonna do it this way, exactly why have paid votes?
5. Simply say you were looking for the money of ours if that is all that you wanted…
6. 127 messed up the mood
7. The simple fact that Dream did not succeed in the listing of Bongsangs is definitely the weirdest issue. Can they be gonna inform us how they determined the results??
8. Should not they be presenting prizes to artists together with the highest physical as well as electronic sales???
9. ㅋㅋㅋㅋㅋㅋㅋㅋㅋ what's it?
10. The Daesangㅋㅋㅋㅋㅋㅋㅋ
11. SM party!!!!!!!!!!!!! ㅋㅋㅋㅋㅋㅋㅋㅋㅋㅋㅋㅋㅋㅋㅋㅋㅋㅋ
12. Really absurd. This's something that the entire planet is going to drag them for. A shame for k-pop
13. What is with the top Daesang and Album winners..? I have never ever seen IU not receive some Daesang that is f*cking weird. The top Album is additionally f*cking hilarious… what were definitely the standards?
14. An irrational award ceremony🤭
15. Wow the Daesang is seriouslyㅋㅋㅋㅋㅋㅋㅋ
16. Did they select these at arbitrary?
17. Have you considered BTS???? A Bongsang??? They're not presenting the best Album to BTS?
18. What is up with all the Rookie as well as Daesang Awards…
Additionally, they split the Daesang in 50 % several years back
And today they are offering it for some SM idols no one has previously seen of
I would have known if they chose to present it to Im Youngwoong instead
1. [142, -7]
In fact, this kind of award show is in the degree of AAA and also the Fact but most people weirdly overrate it
2. [141, -7]
Seoul Music Award must end nowㅎㅎ
3. [128, -7]
The supreme groundless award show
4. [74,-9]
Ten years back, they split the award among SNSD and IU, plus ever since they began offering it out there to SUJU, it seemed like they simply thought offering it to an SM idol all the time
5. [65, -10]
After they presented BoA the album award as well as Taeyeon the electronic award, they started to be renowned because of it
6. [58, -4]
I might 've fully understood if they just granted it to NCT Dream, they've future
7. [52, -2]
Presenting a Daesang to a team which does not have any songs during the annual chartㅋㅋㅋㅋㅋㅋ This's peak comedy