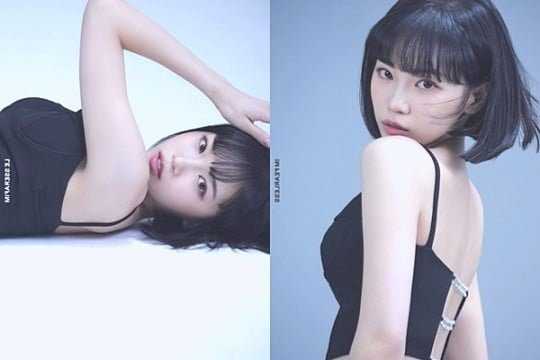 1. Oh no, go away unni.
2. All could be perfect Everything would be perfect if Kim Garam would just disappear.
3. I don't think that anything could ever be satisfactory enough to Kim Chaewon. I'm not willing to hand her over to anyone, but I'd rather keep her for myself. This unni is serious. Chaewon-ah.
4. Sigh. fuck. I don't want to pour rain on their parade, but this is an absolute fuck. Does Bang Shi Hyuk go backwards through time or something?
5. What's up with the reaction. I'm sure that her picture has been a sweet, cute, citrus-sweet kind of image, but I believe she's grown up enough to grasp ideas like this. It's refreshing to break away from the norm. It gives me more confidence that she'll be fine.
6. Why is her approach similar to this. How is this the best that you could ever accomplish with Kim Chaewon.
7. I am not a fan of this idea including the hair, the makeup and everything else.
8. Why am I in such a state of discontent, that I believe she could do much better than this, but is this really all they could achieve with her.
9. What's this idea. What did they do to such a beautiful girl.
10. Kim Chaewon pulled her hair flawlessly, any other person could have turned out to be an edible mushroom.
11. I am utterly disgusted by this idea.
12. Oh fuck, this group is already a disaster due to Garam.
13. The idea is only possible because Kimchaewon is making it happen. Bang Shi Hyuk must ensure that everyone is performing their duties correctly.
14. A lot of effort for a group that will be floundering due to Garam.
15. Do I really have to be alone who loves it?