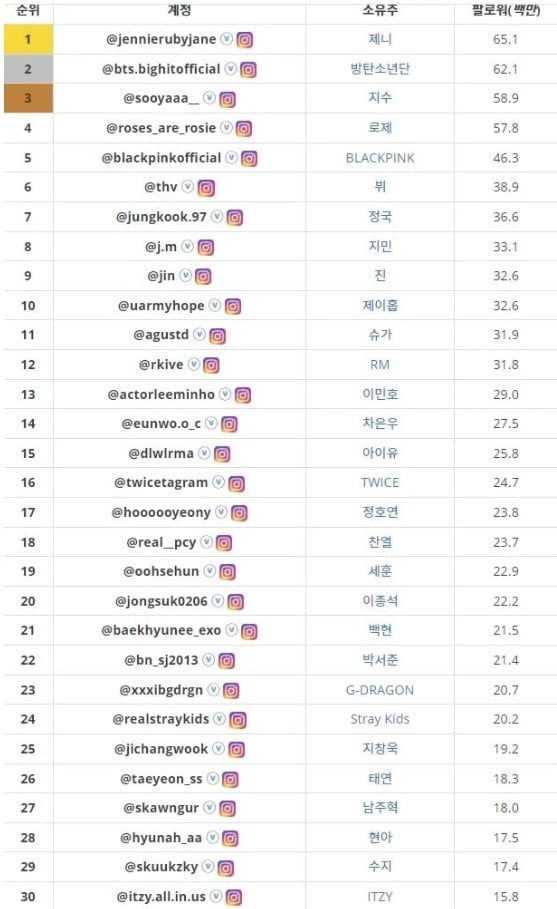 Jennie
BTS
Jisoo
Rosé
BLACKPINK
V
Jungkook
Jimin
Jin
J-Hope
Suga
RM
Lee Min Ho
Cha Eunwoo
IU
TWICE
Jung Ho Yeon
Chanyeol
Sehun
Lee Jong Suk
Baekhyun
Park Seo Joon
G-Dragon
Stray Kids
Ji Chang Wook
Taeyeon
Nam Joo Hyuk
Hyuna
Suzy
ITZY
Do you follow them also?
1. Isn't Lisa get the biggest fans? Is this talking about local stars? I've been keeping track of Lisa, Jennie and Suzy!
2. I've been watching Jennie, Jimin, RM and Taeyeon
3. It's odd that Lisa was removed and Rose was added…
4. Rose has dual citizenship , and she also has Korean citizenship and Korean citizenship, which is why she is eligible to be considered a part of the group.. I'm declaring this because I've seen posts asking for clarification on this.
5. I've been watching Jennie, IU, and Taeyeon
6. Check this out Isn't Stray Kids so popular?? ?
7. Why should we include Lisa on this list? Lisa has a nationality, and she isn't popular with the people of Korea and the reason why she has the highest number of followers of BLACKPINK members BLACKPINK members is that she has many Thai or Southeast Asian fans
8. I've been keeping track of BTS Members, IU, Jisoo and Twice!
9. I've been watching Jennie Jishoo, Jennie Rose even while I'm not a huge fan of BLACKPINKkkk.
10. Whatis it that makes Rose has fewer fans than Jisoo? I'm shocked.. It's been interesting keeping track of Jennie, Rose, BTS members, Taeyeon, as well as Hyuna