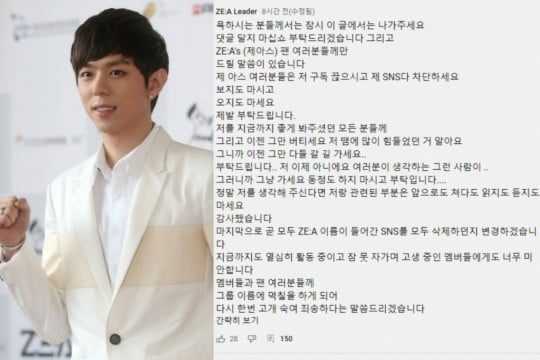 1. We don't need to hear it twice. I was there.
2. He is so pathetic. I was a ZE.A fan, too, and it feels like he is making fun of his fans. Since I was mainly a fan Dongjun, Kwanghee and Hyungshik, he was not a member that I cared about. But why is he acting like this? Instead, he should be looking for ways to thank his fans for sticking by him.
3. He has been so coddled, he can't bear to hear one negative thing about himself
4. This is a great example of the importance of fame. It's so sad when you end up half way there, like this guy.
5. In ZE:A, I know only Kwanghee and Hyungshik. I don't know who this guy is.
6. He claims he was lured into this scandal, but it is possible that the woman is correct. He's already dragged ZE.A's name through other scandals in media. I hope he doesn't speak up during the legal battle.
7. People like you are the reason innocent fans have chosen to support, love, and wish for you well.
8. Is he digging his grave? It's still funny to see him donating money and demanding a refund after she refused.
9. Act your age. This is the time to know what's right and wrong. It is not possible to decide to only listen to what you want by ignoring your fans. I didn't know a nugu existed, because ZE:A is to me only Kwanghee Hyungshik Siwan Dongjun and Kevin.
10. Is he still a fan? It seems like he doesn't have a frying pan at home.
11. He is such a loser.