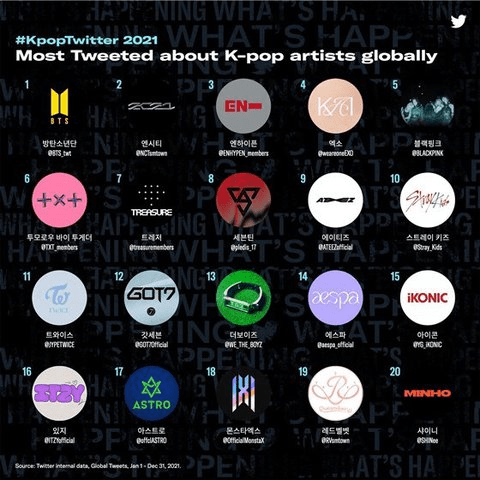 Last year, Twitter examined the 7.8 billion K pop tweets and also posted information regarding countries with the most K pop tweets, countries with the most K pop fans, and also "rising K pop artists." (ed)
BTS got the top spot as the most – cited K-pop figure on the planet today. Over sixty eight million tweets came in from around the globe throughout the face-to-face concert BTS Permission TO DANCE ON Stage – LA "last year in LA, confirming the global interest in BTS, while NCT took second spot for the
The K-pop generation made a huge leap forward this year. Since its launch last year, ENHYPEN has attained a million seller organization and has been placed 11th in the US index. The primary album chart "Billboard 200" ranks Billboard 3rd in the most – cited K – pop artists on the planet.
Additionally, Stray Kids and ITZY ranked 16th and 10th respectively, and Aespa, the very first K-pop artist to show up on the American talk show The Nick Cannon Show ", was 14th and joined the ranking the very first time.
1. [77, -35]
Jjang-HYPEN:
2. [65, -16]
Congrats Bangtan!
3. [58, -12].
This makes me realize the fandom of ENHYPEN, ATEEZ and Treasure is much bigger overseas. In spite of their domestic recognition, they're all within the top 10.
4. [27, -4] 4
The TXT index is developing nicely.
5. [19, -1] =
Congrats to ATEEZ!
6. [17, 21]
NCT 127 NCT Dream WayV NCT = NCT
7. [16, -2]
You have done well, ATEEZ.
8. [15, -2]
Provide Treasure's 2 / 15 Comeback a great deal of interest.
9. [13, -4]
The YG's sibling groups Treasure and BP were in the vacuum for more than a year, however their international fanbases continue to be strong and they're extremely popular. Their business is YG, and that is the reason they've a great deal of hiatus.
10. [10, -3]:
Take a look into ENHYPEN's downvotes.