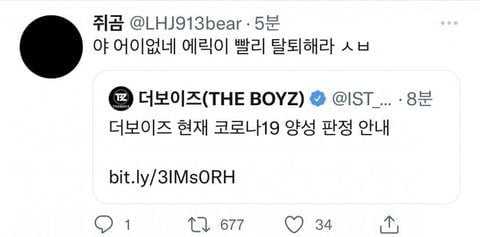 (RT Hyunjae Covid Update)
Just in case you're wondering, Eric caught it first by dining out with buddies throughout awards season, along with other members of the band began testing positive.
"This is actually nonsense, huh? Eric f * cking withdaw quicker."
It's frightening to go to the fan page of Hyunjae.
1. I like that if I was her. I am only able to visualize just how irritated she was. Eric is undertaking this for the 2nd time. He keeps on producing problems for the Boyz and force them to take breaks throughout the promotion. He's unmanageable and doesn't assist the group in any way. He's a complete thug who continually produces debate.
2. I would be like that as well if my bias was impeded by him.
3. Is this fansite legitimate? Her name does not seem like one to me.
4. In order to label her a fan site might be an overstatement, since she really likes taking photographs of other people. She actually states on Twitter that she is not a fan. She's simply a fangirl who snaps photographs (Note: unsure what the difference is here) sigh.. Let us keep away from a fight among us, deobies. let this just slide.
5. Obviously I understand you are a deobie but this guy has been obstacle a lot of times over.
6. But no, I do not understand precisely the reason she got angry. At award shows you encounter a lot of people, so you have to be really cautious about who you're meeting. In truth, Eric caught it mainly since he dined with his buddies. Then shortly after all of the members started to test positive. They needed to end their award show participation and had to decelerate all their schedules. Due to that, they additionally test their staffs daily. What acts have the other members committed? Eric is doing something totally new these days, and this is not even his very first attempt at it.
7. The person who went bowling with no mask was Eric when we entered Lockdown Level four, he visited an amusement park and was sworn at once again, it had been Eric correct? He acts like he does not have any concern.