Mark, Renjun, Taeyong, Doyoung, RV's official account, Wendy, Seulgi, Joy, Yeri, Jennie, Lisa, Jisoo, Rose, Taeyeon, Lil Cherry, Sunmi, Crush, D.Ark, Sokodomo, Zico, Leejung, Lip J, Ash Island, P.O, Yumdda, Bewhy Meenoi, Be'O, Twice, ITZY, Han Sohee.
Yang Hongwon, Yang Hyunsuk, P.Nation, Bibi, PH-1, Stray Kids, Suga, J-Hope, Skinny Brown, Hash Swan, Toil, Suzy, Jun Somi, Jeon Soyeon, Freezia, Ed Sheeran.
Song Kang, Woo Wonjae, Sandara Park, Lee Youngji, Song Mino, Rain, Zion T, Jessi, Hwasa, Krystal, Weekend, model Seo Jisoo and Jung Hoyeon. the dog that PH-1 has been training, Code Kunst, Lee Hi, Wonstein, Mirani, Snoop Dog, Dua Lipa Kim Kardashian, Ariana Grande, Jennifer Lopez, Beyonce, Kendall Jenner, Katy Perry.
Twice GD Jung Jinhyung Basick, Boycold, Ahn Bohyun Kylie Jenner, Ha Sungwoon, Won Youngdeuk Cha Hyunsung from Single Inferno's Single Inferno, Quaddurup, NASA's official account, YSL, the transgender on Euphoria, Rian, Bada Lee, Yoo Ah-in, Choi Yoojung, Aiki, Wi Hajoon Lizzo, Jackson (GOT7) Jordan's official account Swings, Henry, Stussy's.
NCT Dream's official account. She even was a follower of NCT Dream's official account.
She's not even following the account of 127.
She doesn't care to the female rookies' accounts.
The PH-1 seems made a follow back.
There are many more ones listed here.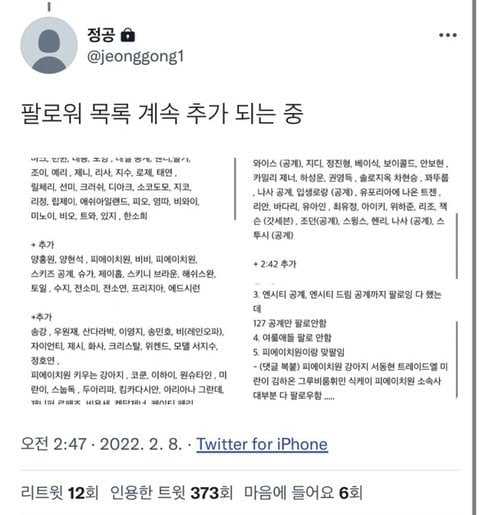 1. You're exposed NingNing' secret account, however, if this occurred to your own oppas you'd have said "you can not do that." when you were talking about their private lives. You would have strike to OP.
2. What's up? There's no image that isn't in the text. I'm shocked by this.
3. There's no evidence to support it, therefore why should I believe this?
4. She's also following everyone else on Red Velvet except Irene 🙂
5. Wow, goosebumps! expose a female celebrity's private account, yet no one has been cursing OP rather, you're criticizing every one of her following:
"She's not keeping track of these guidelines."
And swearing at her instead.Get out of your mind, and fuck
6. It's funny that she isn't a fan of NCT Dream's Jaemin
1. The SM supporters don't seem to care about this. Even if they're a threat to the nation, their group is more important to them.
2. The most significant issue is the children that drink SM.. The CEO's ideology is built in"the "China dream". He's not different from a traitor to the country.
3. However, her shinyeos are going to be fucking her fangirls. Are you sure that this is the first time someone from a Chinese girl has been treated in Korea as if she was a sh*t?
4. The children who say "you should've been tanned Winter or Karina from the beginning" show that they don't have a brain. What is the point of this joke? If you make a purchase to purchase them Ning Ning can also make money, gain from it and go towards China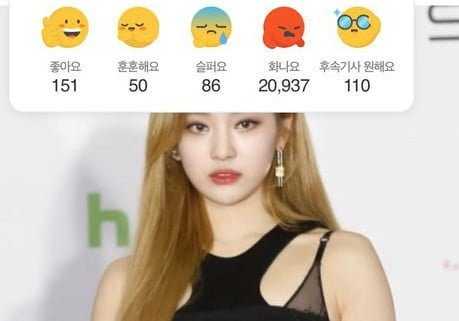 5. SM has Uknow Yunho's room salon, drug-BoA Chiwon Siwon's dog controversy and power trip-Irene, and they remain open to the group. I'm curious about the attitude of SM fans.
1. I'm skipping her regardless of what happens from now on.
2. SM really likes China
3. Sincere, I'm not able to stop them because of her. are you convinced that the Chinese members have escaped at least one or two times? I'm unable to stan them.
4. She'll also go through China within a short time
5. We must stop using Chinese members.
6. Wow she can't even understand the room. This is not a common occurrence.
7. However, she's earning Korean money in the process. In all seriousness, she must possess a minimum of confidence. In my position I wouldn't've written it.
8. I am confident that I will skip any group of Chinese members
9. In the midst of promoting her brand in Korea? She's completely unthinking.
10. It's not like she has no manners, she's refusing to read the surrounding room