My Daily: Reporter Oh Yoon-ju
Actor Jung Hae In and Black Pink member Jisoo claimed their thoughts for Snowdrop final.
Jisoo and Jung Hae-in talked about the JTBC drama 'Snowdrop' which is about to end, through their respective. Jisoo and Jung Hae-in looked back on a long period as they worked much.
Jisoo said, "Today is the 15th and 16th consecutive broadcast day. The last day of Seolganghwa (Snowdrop). Please enjoy watching until the end."
Then she scored "100 points ♥" and "#Seolganghwa, a happy filming set that everyone worked together."
Afterwards, Jung Hae-in also posted the hashtag #Seolganghwa on his personal Instagram and added a 100-point emoticon "💯🙏". In the photo he released, Suho (Jung Hae-in) and Yeong-ro (Jisoo) smile brightly.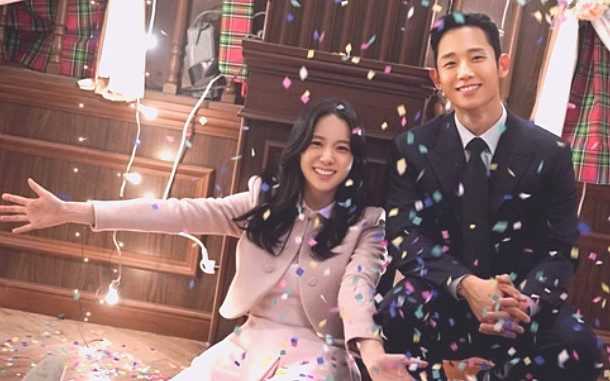 Netizen Reactions
1. It seems like it was fortunate that it aired until the end without abolishing it.
2. After watching all the drama, the petition to abolish was a real comedy. Everyone did a good job.
3. At the end of the day, it's soooooo good.
4. I'm not really interested except when I first petitioned… I don't even have the curiosity to find out the ending or the content
5. I fell in love with it ;;;;;
6. I'll remember both
7. It was such a good drama. I support both of them. I hope that the kids who incite and cause discussion over this drama will be unhappy for the rest of their lives.
8. The toughness and acting are at the bottom level
9. It's a comedy for stupid actors and their fans to crawl back in their twenty-twenties and talk nonsense hahahahaha
10. There are still as*holes who don't even know what the problem is, but the actors and fans are on the same leve.
11. The shield of the fans of the goddess Ilbe, people can't understand it, it's madness, it's madness.
12. I just don't like it… Phew
13. I don't know anything else but Jisoo's acting isn't too good considering she's an idol, but it was the beginning..
14. I watched up to episode 4, but to be honest, thanks to the historical discussions. The quality of the work and the acting skills of the actors were all buried.
Well, in the end, the low ratings prove it, but apart from the distortion controversy, if there was something fun like Queen Cheorin, maybe the ratings would have been good? It is not just a well-made drama by itself 22
15. Escape from the dormitory? I watched it because it was a joke
16. Whether it's an actor who shoots or a fan with a shield…
17. History will judge, aren't you afraid?
18. Mental victory hahaha everyone is happy hahahahahahahahahahahahahahahahahahaha
19. Why are fans swearing in the comments here?
20. 100 points for acting like that hahahahahahahahahaha