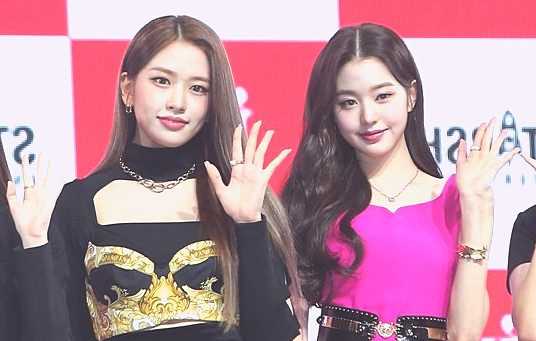 1. Ahn Yoojin will always become the leader, as she is one of the oldest. She's able to speak to other members first and then look at them. She's able to connect to the members and assist any member who may be lacking something. She's more than just a pretty face, but someone who has profound thoughts as well. Jang Wonyoung is only a teenager and isn't quite aware of the amount of love she's receiving , and what else she's got to accomplish to be worthy of it, from coordinating her facial expressions to learning to sing. She's supposed to work to make improvements to the things she's not good at, however she doesn't seem to do that in any way and it's difficult to put her in a favorable way for it.
2. However I wish all the best to Ahn Yoojin. She appears to have an amazing personality as well as an unwavering, reliable leader.
3. The facial expression in 0:23 was daebak.
-I'm not going to be neutral, however;; I admit that face is frozen..
– In real.. frightening.. This is the reason I'm not sure if idols are trustworthy…
-She is really scary as the one in that
-I'm a huge fan and I'm not able to hide that…
-I usually find it difficult to understand to see people making assumptions from facial expressions but I'm forced to admit that which you shouldn't make assumptions about unless it's deliberate kkk
-I was a person who was a witness as this scandal unfolded the people were trying to protect her, saying it's due to her contacts. .I found it hilarious that her fans claimed that she was uncomfortable with her contact lenses.
4. Ahn Yoojin has always been such an exceptional worker. I am always amazed by her hard work. From visuals to skills She is a complete package..
5. Yoojin deserves the leadership position. She is the most warm and compassionate to her staff and is able to spread a positive energy. I'm very happy that she's the one leading.
6. Even if you truly appreciate your friends it can be difficult to stay in agreement regarding all things and not be involved in disagreements… So even if they're all connected or even close is normal. I hope that the relationship doesn't become worse than it already is.
7. I'm hoping that they will come to terms with each other.
8. Ahn Yoojin can be described as an all-rounder. If you look at Ive's performances she's the one who is the foundation of the group. She's also one of the prettiest… as well. I could be viewed as a hater for this, but there's a good reason why Jang Wonyoung gets immersed involved in scandals and gossip. I'm hoping she'll become more aware of the bigger picture for the benefit and the team she's on.
9. I'll admit that these two have never appeared to be close, and they have been the subject of many controversy about it.. Yuyu
10. I found it interesting in an Ive interview, where Wonyoung was in the middle and was seated with Yiseo and Yoojin at each other's side. she was unable to glance at Yiseo when she spoke and kept talking in front of Yoojin at least every 10 minutes. I thought that Yiseo would be feeling left out by this.
11. The comments constantly point to the fact that there's a reason that Wonyoung keeps getting involved in these kinds of gossips and they're true. Yes, there could be some forced controversy caused by her detractors however, I believe it's an issue in and of itself that she's always involved in these rumors no matter what. This isn't something that can be kept under wraps constantly.
12. I've always felt that Jang Wonyoung is presented in a beautiful way, but I get an uneasy feeling that comes from her.